2012 Features - &
Previous Season's Features ~ To Review PICTURES, ARTICLES, ROSTERS and SCORES from
other Seasons, click on the appropriate year and follow the links :
2006 ~ 2007 ~ 2008 ~ 2009 ~ 2010 ~ 2011 ~ 2013
Next Page -
Welcome to Clearfield Football - 2012 Season
---
www.clearfieldfootball.org, is the official website of the Bison Football Quarterback Club
but is neither affiliated with nor endorsed by the Clearfield Area School District

---



2012
. . . home of the Bison. Clearfield PA
Clearfield Football
CLEARFIELD AREA HIGH SCHOOL . . .
CONNECTIONS - clearfieldfootball.org is now on FACEBOOK ~ or Contact Us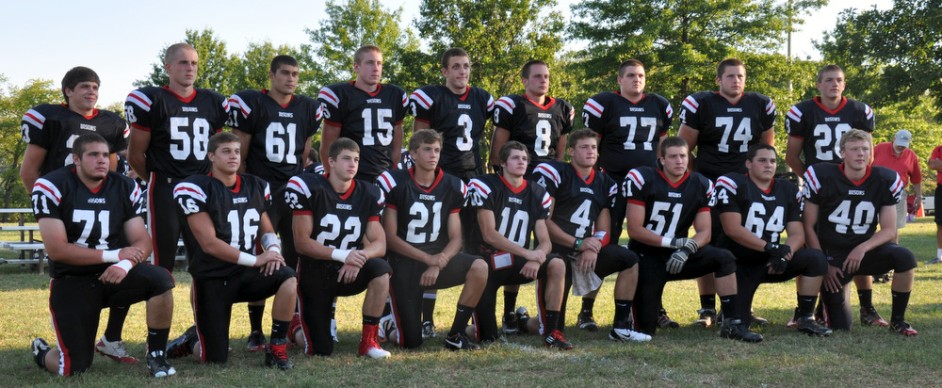 2012 Clearfield Bison Returning Letterwinners ~
Back: Mike Trude, Wyatt Flanagan, Jake Verchik, Shawn Lord, Ty Woomer, Seth Beardsley, Jon Janocko,
Hunter Keith, Trey Jordan
Front: Jonas Kochan, Seth Ford, Tyler Stratton, Spencer Herrington, Dylan Graham, Christian Lezzer,
Ben Panebianco,Vince Owens, Corey Stiver
---








---
2012 Feature Pages ~
In the 2012 Regular Season the Bison had an undefeated 9-0 record
prior to defeating Bradford 49-0 for d9 honors and Punxsutawney
38-18 for the d5-6-8-9 Regional Crown.

The Bison were then defeated 36-22 by Pittsburgh's
University Prep on November 17th in the State Play-Ins,
ending the year at 11-1.