www.clearfieldfootball.org, is sponsored by the Bison Football Quarterback Club
and is neither affiliated with nor endorsed by the Clearfield Area School District

Previous Game - vs. Jersey Shore
11-30-13





.
44-7 Loss to Berwick, 11-29-13




. . . home of the Bison. Clearfield PA
CLEARFIELD AREA HIGH SCHOOL . . .
---
2013
Clearfield Football
Back to or
Back to or
Listen ~




Right Click on any of these Progress photos and go to"Properties" to retrieve the Progress' photo code for ordering purposes.
In many cases, their code begins with the letters "IMG". Ignore our code
(PP112913) which precedes theirs
Photos by Jon Christoff and from the paper's online photo archive.
Purchase 8 x 10 Color Copies HERE .


Bison defensive lineman Hunter Keith (74) gives chase to Berwick
quarterback C.J. Curry during Friday's PIAA quarterfinal at Central
Mountain. Curry scored three touchdowns on the ground and threw
for another, as the Bulldogs handed Clearfield its first defeat of the
season, 44-7.

( Photo by Jon Christoff )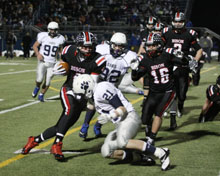 Clearfield quarterback Christian Lezzer, left, tries to avoid the tackle of
Berwick's Dain Kowalski as teammates Seth Ford (16) and Wyatt Flangan (2)
look on. Kowalski's 76-yard interception turned the tide in the Berwick win.

( Photo by Jon Christoff )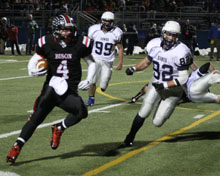 Christian Lezzer and two Berwick pursuers.

( Photo by Jon Christoff )