Head Coach Tim Janocko

Tim Janocko has been coaching for thirty-six years, thirty-two of those years as Head Coach of the Clearfield Bison. His overall record (at the conclusion of the 2016 season) is 257-108-3, for a personal
win % of .704. Coach Janocko and his teams have earned eleven District Championships, set three
State Passing Records, appeared four times in the Western Pennsylvania Quarterfinals and have
made seventeen play-off appearances.

During his years of coaching, Tim has served as President of Pennsylvania State Football
Association and was also two-time President of the Central Pennsylvania Football Coaches.

In 1998, Tim received the District IX Coach Of The Year Award. He has received five Progressland
Coach Of The Year titles. Coach Janocko was a five-time Head Coach for the Lezzer Lumber Football
Classic, a Head Coach in the 2006 PSFCA East-West All Star Game and an Assistant Coach in 2001's
Big 33 Game ( Pennsylvania Standouts versus their counterparts from Ohio.) and was head coach of
the Pennsylvania Team in the 2009 Big 33 Game in Hershey . He was inducted into the Central PA
Football Coaches' Association Hall of Fame in 2011,the Pennsylvania State Coaches'Hall of Fame in
2013, and was the CPFCA's "Coach of the Year" in 2015.

Coach celebrated Win #200 at Hamburg (34-28) on October 14, 2011 and #250 at Huntingdon,
(35-21) September 16th, 2016 and is in sole possession of the d9 coaches' title.

Coach Janocko is a graduate of Moshannon Valley High School and Penn State University.
Tim and wife Trina have two children; Andrew who quarterbacked the Bison, played at and
graduated from Pitt and is now Quality Control - Offense Coach with the Minnesota Vikings;
and Ann, a graduate of Slippery Rock and now a teacher with the C.A.S.D. and an Assistant
Coach of the Lady Bison Basketball team. She played Basketball at C.H.S and was a Varsity
Football Cheerleader here.
Or back to 2016 Photos -
Front: Assistants Nate Glunt & Dan Putt, Head Coach Tim Janocko, Assistant Dave Domico
Complete Staff Listing -
Head Coach - Tim Janocko
Varsity Assistants - Myles Caragein, David Domico, Nate Glunt, Dan Putt, Eric Scaife
Trainer - Samantha Morgan

9th Grade - Rick Reddan, Andrew Shimko

8th Grade - Curtis Campman, Robbie Tubbs

7th Grade - Pat Pallo, Robert Lazauskas

Volunteers - Mike Knepp, Tyler Kirkwood

C.A.S.D. Administration -
Mr. Terry Struble, Superintendent
Mr. Tim Janocko, High School Principal
Mr. Robert Gearhart, Athletic Director
Ms. Samantha Morgan, Athletic Trainer, M.S., A.T.C, P.E.S.



Clearfield Football
2016
. . . home of the Bison. Clearfield PA
CLEARFIELD AREA HIGH SCHOOL . . .


Clearfield Bison Football Coaching Staff ~
Back to Photo Directory -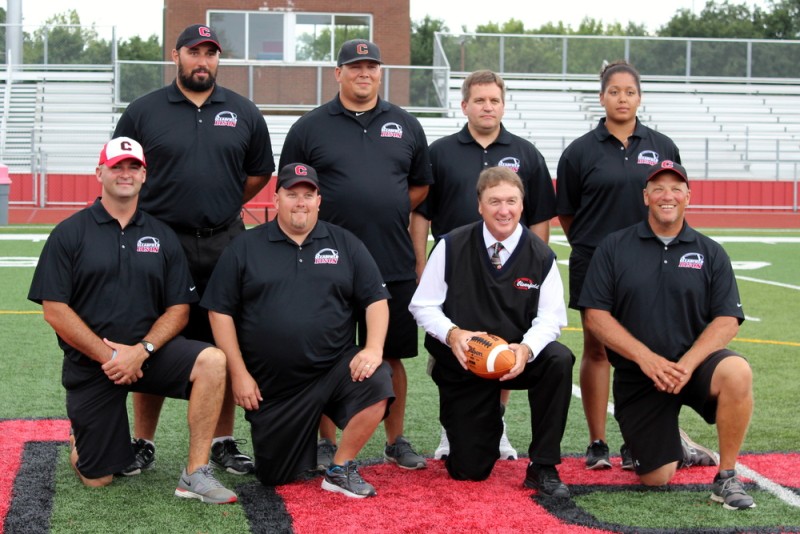 Back: Assistants Myles Caragein, Eric Scaife, Mike Knepp, Trainer Sam Morgan
11-16-16





.
www.clearfieldfootball.org, is the official website of the Bison Football Quarterback Club
but is neither affiliated with nor endorsed by the Clearfield Area School District


Click boxes to see other pages . . .

SOPHOMORES JUNIORS SENIORS