www.clearfieldfootball.org is sponsored by the Bison Football Quarterback Club
and is neither affiliated with nor endorsed by the Clearfield Area School District

10-19-18






.
CLEARFIELD AREA HIGH SCHOOL . . .
. . . home of the Bison ~ Clearfield PA
Clearfield Football
2018

R.I.P. Bob E. Day, 10-18-18

Back to Home - 18 Articles


Back to Home - 18 Articles


Reproduced from The Progress, 10-19-18, with permission.

Thanks to Progress Sports Editor Jaclyn Yingling for the cooperation

I'm sure he's not only up there spinning oldies,
he's also "boogying 'round the breakfast table."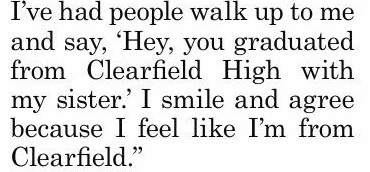 As Amy reports in her article, Bob started at WCPA in late 1967.
I came home from the service the following spring and heard
this new guy on the radio and just assumed he was a local, a
few years younger than I and that I just hadn't known him
in high school. It wasn't until I read this article back in 2000
that I found out that he had come here from Michigan; he
always just seemed to be a Clearfielder. And he was.
- Bob E. Day
"
"How Does Clearfield Say Goodbye to Local Radio Legend?"

One time a few years back Joey and I had our "Steak On A Stick" trailer at Philipsburg's "Heritage Days"
and we were set up right in front of where the local radio stations were to do their "live remote" broadcasts.
Long time WPHB radio personality Sheldon Sharpless had the first shift to be followed by Bob.
Ever the professional, Bob showed up plenty early and when Sheldon spotted him he waved Bob
over to share the mic on his WPHB broadcast. At the top-of-the-hour when Bob took over for the
WOKW portion, he returned the favor and kept Sheldon around for fifteen minutes or so.
Thus we were treated to about a half-hour of two of Central Pennsylvania's legendary voices sharing
the same broadcast, the only chance that I know of that the two of them had that opportunity.
It was a lot of fun and I'm glad we were there.