. . . home of the Bisons. Clearfield PA


Clearfield Football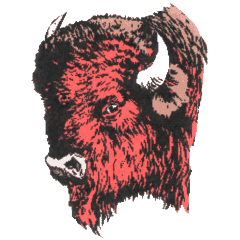 CLEARFIELD AREA HIGH SCHOOL . . .
This site is neither affiliated with nor endorsed by the Clearfield Area School District
Clearfield Bison Football Coaching Staff
Head Coach Tim Janocko

Coach Janocko has been coaching for twenty-five years, twenty-one of those years as Head Coach of the Clearfield Bisons. His overall record is 157-83-3. Coach Janocko and his teams have earned seven District Championships, set three State Passing Records, appeared twice in the Western Pennsylvania Quarterfinals and have made thirteen play-off appearances.
During his years of coaching, Tim has served as President of Pennsylvania State Football Coaches Association and was also two-time President of the Central Pennsylvania Football
Coaches Association.
In 1998, Tim received the District IX Coach Of The Year Award. He has received four Progressland Coach Of The Year titles. Coach Janocko was a three-time Head Coach for the
Lezzer Lumber Football Classic, a Head Coach in the 2006 PSFCA East-West All Star Game
and an Assistant Coach in 2001's Big 33 Game ( Pennsylvania Football Standouts versus their counterparts from Ohio.)
Coach Janocko is a graduate of Moshannon Valley High School and Penn State University. Tim and wife Trina have two children; Andrew, a Freshman at the University
of Pittsburgh and former Bison Quarterback; and Annie, a Junior at C.H.S. and Varsity Football Cheerleader and a member of the Lady Bison Basketball team.
Assistant Bob Love

Bob Love graduated from Clarion University of Pennsylvania in 1970, began teaching that fall and racked up thirty-five years with the the Clearfield Area School District before
retiring from teaching in June 2005. The last twenty-six of those years Bob taught 6th Grade
Math and Social Studies at the Clearfield Middle School. Bob began his coaching duties with Flag Football the same year he started teaching and then coached at various levels in the program until retiring from coaching after the 2004 season. Eighteen of his last Nineteen
years in coaching he served as Varsity Assistant. Bob is still happy to help with the Bison Football program in any capacity where he is needed. Bob and Betsy, his wife of thirty-four years have two children. Michael, 32, a former Bison Football Player is now a Sports Editor,
living in Monroeville,PA and Elizabeth, 28, is a substitute teacher living in Clearfield. Even
with lovely wife Betsy and two wonderful kids, Bob says that Football will always be his greatest love. However, Bob may hope that Betsy doesn't get around to reading that last proclamation.
Bio's for the rest of the coaching staff will be posted as they are available
clearfieldfootball.org photo
Or back to 2006 Photo Directory -
Back to Photo Directory -
Click on a button to see other classes . . .
Back: Rick Panebianco, Trevor Kephart, Dan Putt, Nate Glunt, Tom Janocko, Dave Domico
Front: Bob Love, Tim Janocko, Forrest Campman
Head Coach - Tim Janocko

Varsity Assistants - Forrest Campman, Nate Glunt, Dan Putt, Jamie Quick

9th Grade - Head Coach David Domico, Fred Redden

7th & 8th Grades - Bob Gearhart, Pat Pallo, Rick Redden, Scott Way

Elementary - Tim Janocko, Jamie Quick

Volunteers - Tom Janocko, Robert Love, Rick Panebianco, Ken Wisor, Kevin Wisor

Coach Nate Glunt

Nate has been an assistant coach at Clearfield for the past five years where he coaches
the running backs and outside linebackers. Nate graduated from Curwensville High School
in 1996 and then went on to Penn State University. He played football at PSU for four years
and graduated with a degree in Kinesiology. He is currently a Health and Physical Education teacher at the Clearfield Middle School. Nate is happily married to his wife
Jessica, and and are proud parents of daughter Hannah, born, appropriately on Super Bowl
Sunday, 2007.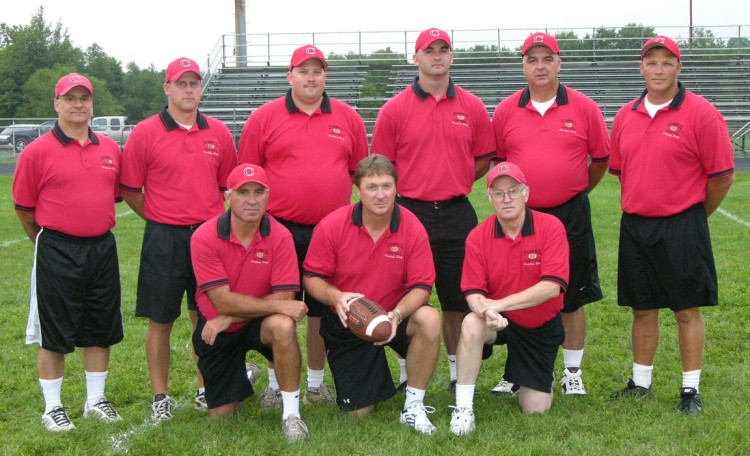 Front: Forrest Campman, Tim Janocko, Bob Love